Corecon Technologies Revamps Mobile Apps and TeamLink Portal in its Construction Software Suite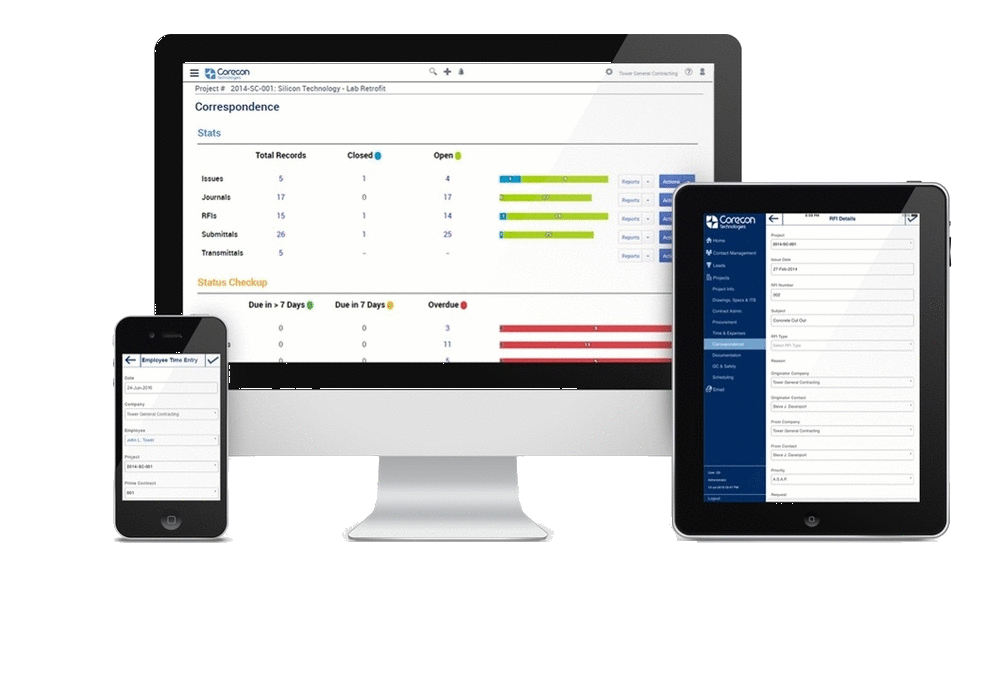 A new user interface and navigation capabilities in Corecon Mobile apps for iOS and Android devices, as well as the Corecon TeamLink Portal streamline on-the-go project management capability and enhance team collaboration.
Corecon Technologies, Inc., a leading provider of cloud-based construction estimating, project management and job cost software, announces new features for its Corecon Mobile app and TeamLink Portal. The updates were developed to complement the newest version of Corecon's browser-based construction software, which was released in August 2016.
"Our entire construction software platform, consisting of Corecon, Corecon Mobile and TeamLink Portal are now fully modernized from a user interface standpoint," said Corecon Technologies President Norman Wendl. "Although each component serves a unique purpose, there is a commonality among them that improves usability and efficiency, giving our clients a distinct competitive advantage."
Corecon Mobile App Updates
Serving as the next generation of Corecon's mobile solution, the modernized iOS and Android Corecon Mobile apps now have a new user interface and navigation functions, making it easier to view and add construction project information from a smartphone or tablet device. For example, field staff can quickly enter daily logs, timecards, miscellaneous expenses and view alerts from the app's home page.
The Project Details view lists all related information linked to the construction project, eliminating navigational steps that were required in the earlier version of Corecon Mobile. The updated app also adjusts to the appropriate time zones for Corecon's domestic and global customer base.
Like its predecessor, the modernized app provides the same tools that are available in the Corecon browser-based solution. Both the Android and iOS apps capitalize on the features of their individual devices, providing Corecon users with the ability to take progress photos, use speech-to-text functions and import contacts directly from their smartphone or tablet.
Since Corecon's entire product line connects to a common platform, Information entered in Corecon Mobile immediately appears in the browser-based version of Corecon, eliminating the need for data synchronization across devices. 
"The Corecon Mobile app serves as the documentation lifeline between our field and office staff," said David Pratt, chief estimator/senior project manager at Whitlock & Shelton Construction. "We primarily use the app as a tool for our construction site personnel to submit daily reports and to track the overall progress of our projects, as well as our subcontractors and our own labor force. Because the new interface mimics Corecon's desktop version, we are all on the same page and can access the information in a similar fashion, whether we are working on-site or in our office."
TeamLink Portal Updates
The Corecon TeamLink Portal is a user-friendly Web-based service that provides subscribers of Corecon with an economical solution to seamlessly connect project team members. Within the Portal, the project owner, consultants, subcontractors and suppliers have secure, real-time access to project information.
Recent updates to the TeamLink Portal include a modern user interface similar to Corecon's browser-based flagship solution and modernized mobile apps. Information relating to new job opportunities and existing projects are organized in a way that outside individuals given access to the information can easily navigate the Portal without any training. Updates in the Portal also reflect the external team member's time zone, which is especially critical for time-sensitive information.
The Corecon Mobile apps and TeamLink Portal are free to subscribers of Corecon, and the updated functions are available now. New Corecon Mobile users can download the app on iTunes or the Google Play Store.
For more information, visit http://www.corecon.com